Carrot muffins are great for breakfast or a snack.  These spiced carrot muffins go the extra mile by also adding a little vegetable to an otherwise sweet treat.  Just a few basic ingredients, a lot of fun spice, and about 30 minutes will get you a delicious and easy treat that even your kids will love.
I made these muffins when I was a member of the Secret Recipe Club when I was assigned the blog Samayalaria.  I was really excited to be assigned a blog that is so different from mine.  And a little worried about converting grams and Gas Marks in to something I knew, but a challenge is fun! I spent a lot of time perusing Samaylaria and found so many different foods that I've never been exposed to.  There is also a slew of eggless recipes if you need to avoid eggs.  I was determined to make something new and exciting!
In the end, I was not adventurous at all. I finally decided to make carrot spice muffins because it was morning and I needed breakfast.  Plus I love sneaking veggies in to "cupcakes" for the kids.  These were so delicious and my kids loved them! I really liked the flavor from all the spices.  These muffins are perfect for a quick breakfast on Easter morning, too.
I did make a few changes to the recipe. I didn't have any yogurt or buttermilk so I used sour cream instead.  I left out cardamom because all I have are whole pods and I didn't feel like pulverizing them.  I've included salt in the recipe, but I'm listing it as optional.  These were almost too salty for me so next time I'd add just a pinch at the very most. Feel free to mix in some add ins – my kids are picky so I just used carrots.
Yield: 6-8
Spiced Carrot Muffins: Secret Recipe Club
Ingredients
3/4 cup all-purpose flour
1/2 teaspoon baking powder
1/2 teaspoon baking soda
1/4 teaspoon salt (optional, not recommended)
1/2 teaspoon cinnamon
1/4 teaspoon nutmeg
a pinch of all spice
a pinch of ground ginger
3/4 cup shredded carrots
1/2 cup brown sugar
1/4 cup coconut oil
1/4 cup sour cream (yogurt or buttermilk)
1/2 teaspoon vanilla extract
1 egg
Optional add ins: shredded coconut, raisins, nuts
Instructions
In a small bowl stir together carrots, sugar, oil, sour cream, vanilla, eggs and any mix ins.
In a larger bowl whisk together flour, baking powder, baking soda, salt, cinnamon, nutmeg, ginger, and all spice.
Add wet ingredients to dry ingredients and stir just until combined. Mixture will be very thick.
Fill cups of muffin tin 2/3-3/4 full with batter.
Bake at 400 degrees for 15-20 minutes.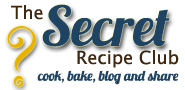 Make sure to check out the other fabulous recipes in this month's Secret Recipe Club reveal!

'); // ]]>