This post brought to you by HarperCollins Children's Books. All opinions are 100% mine.
Let your kids take over the kitchen with this kid friendly yogurt cake recipe. While the cake bakes spend quality time together reading Piece of Cake by LeUywn Pham !
I love having my kids help me in the kitchen.  Except I'm usually in too much of a rush to actually let them help me in the kitchen.  I really want my kids to learn to cook, but I have learned that dinner time is not the best time for them to learn.  Years ago I copied a yogurt cake recipe out of a book I was reading.  The idea behind the cake is to let kids make the cake 100% on their own.
The yogurt cake recipe is pretty simple.  The only real measuring untensil used to make the yogurt cake is an empty yogurt container.   I did also give him a 1/2 teaspoon for the baking powder (and told him to do 3 scoops). I decided it was time to see how this recipe worked and my son and I spent an afternoon baking – and reading – together.
I gathered all the ingredients and then we went one by one.  I didn't help him at all except to stir at the end because the dough was so stiff.  I did crack the eggs and put them in a bowl for him.  He couldn't believe I was letting him do it all by himself!
He did make a little bit of mess.  That happens when you use your hands to get the flour in the yogurt containers.  But over all I was suprised at how little of a mess he actually made.
Nothing was exact and the "proper" baking techniques were tossed out the window. But at the end of the project, we ended up with a delicious cake made entirely by a 5 year old boy – and was he ever proud!
The cake takes a good half an hour, if not more, to bake.  So while our cake baked we snuggled on the couch together to read Piece of Cake by LeUywn Pham.  Piece of Cake is one of HarperCollins Children's Books.  It is a delightful story of mouse who bakes a cake for little bird's birthday. On his way to little bird's house to give him the cake, mouse meets a series of other characters who hinder his plan.  I won't give away too much of the story, but we read it twice while our cake baked.
Like mouse in the book, my little baker eagerly shared his yogurt cake with our neighbors and his dad and sister.  I have to say, this is a delicious cake!  My son and I spent a wonderful afternoon together learning to bake and reading our new story.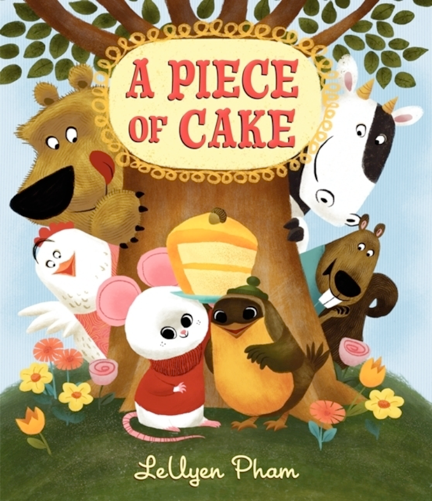 Yield: 6
Yogurt Cake: A Recipe for Kids
Ingredients
2, six ounce containers vanilla yogurt
2 eggs
2 yogurt containers of sugar
A scant 1 container of oil (we used coconut)
4 containers of flour
1 1/2 teaspoons baking powder
1 container chocolate chips
Instructions
Empty the yogurt containers in to a very large bowl. This gives the child plenty of room to mix. Wash and dry the yogurt containers. Use the container to measure the other ingredients.
Add the eggs, sugar and oil to the yogurt in the bowl and mix with a wooden spoon. Set bowl aside.
Measure out the flour and baking powder in to a smaller bowl.
Dump the flour in to the wet ingredients and stir. The batter will be very thick and dough-like. Add chocolate chips and stir to combine.
Grease a 9" cake or loaf pan. Dump the cake batter in to your prepared pan.
Bake at 375 degrees for 35-45 minutes or until done.
Allow cake to cool completely before serving.