Like most kids, my children enjoy spending some time playing on the computer.  My husband and I have had lengthy discussions regarding the use of technology in educating our children.  We've come to the conclusion that whether we like it or not, technology is here to stay and we need to teach our kids how to use it responsibly.  One way that we use technology in our homeschool is through on-line learning programs.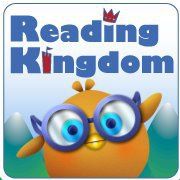 This past month we had the opportunity to use Reading Kingdom, an on-line reading program for ages 4-10.  Since Ella is our resident learning reader, I set the program up for her to use.  She took the first skills survey and much as I expected, the program decided she needed start at the very beginning in Seeing Sequences and Letter Land.   Reading Kingdom also offers training exercises for keyboard and mouse skills if your child needs help with those.
At first, Ella was very excited about using Reading Kingdom.  She loved the little owls!  I loved that she was learning to sequence letter from right to left as she has struggled with understanding that we read and write this way.  After a few weeks of pretty much daily use, however, both of us started to dread using Reading Kingdom.  I felt like we needed to give the program a fair chance, but ended up having to basically force her to do her daily lesson as we headed in to the third week.
Despite the fact that the information on the website states that Seeing Sequence and Letter Land should take 1-2 weeks to complete, after almost 3 weeks, Ella was just over 30% done!  As I watched Ella do her lessons, I noticed that no real letter learning was happening. Instead, she was merely learning to use the computer keyboard and the mouse.  Granted, letters were being used to teach these skills, but no actual phonics were being taught.  We have used other on-line reading programs before, none of which needed more than basic mouse skills. I should note that you can contact Reading Program and ask them to adjust your level setting in your account if you want to bump your child up or down.  But if the program truly customizes to each child, as Reading Kingdom states it does, then I shouldn't have to ask for an adjustment.
Overall, this program just didn't work well for us.  It seemed more like a keyboarding skills program than a reading program, which is fine as long as it's sold as such.  Please realize, however, that this is just my opinion in regards to my child! If you are interested in Reading Kingdom, I highly recommend clicking through below and reading a few other reviews first!

This article may contain affiliate links.
This article may contain affiliate links which support this site at no cost to you.
Leave a comment