I do not normally purchase convenience foods for my kids.  I prefer to control what goes in to my kids food and save money while doing so.  I am, however, a realist and sometimes we just need some convenience foods on hand.  My entire family loves gummy candy.  In fact, I have to hide the secret stash from even the BIG kids (ahem) or it will get eaten quickly.  So one of the treats I like to keep on hand are gummy candy.
There are several organic and all natural brands of gummy candy and I thought we had tried them all.  Most of the brands are okay but the flavors are bland and the gummy wasn't so… gummy.  And then we tried Surf Sweets and the tide changed quickly (ha ha)!  Every single package of gummy candy we had to try were scarfed down within a day.
We could not believe how much flavor this candy has!  They are as flavorful as conventional gummy candy, but even better!  The kids really liked the sour candy and they did indeed pack a sweet and sour punch.  I also really enjoyed the jelly beans.  They had a nice flavor and were soft and chewy. I will be picking them up for Easter next year.
Surf Sweets are made with organic fruit juice and sweeteners and natural colors and flavors.  They don't contain ANY CORN SYRUP or GMOs.   They are gluten free and allergy free.  I also love that Surf Sweets offers small .9 ounce snack bags.  This way the serving size is all set and I'm not fighting with a kid over how much they get.  They get a bag and that's it.   I'm also thinking the snack packs will be perfect to give out to trick or treaters on Halloween.
Again, candy is not an every day treat at our house, but when it is given out, I prefer that it's as clean and all natural as possible and I am thrilled to have found Surf Sweets for that purpose!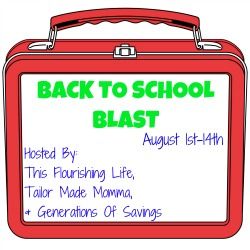 Surf Sweets is a sponsor of my Back to School Blast Giveaway starting August 1st! Come back then and enter to win a multi-pack box of gummy bears and sour bears!
This article may contain affiliate links.
This article may contain affiliate links which support this site at no cost to you.
Leave a comment
9 comments on "
All Natural Treats: Surf Sweets

"