Easy small backyard ideas for Halloween will turn your tiny yard into a fun, and slightly spooky, space perfect for Halloween!
This post was sponsored by Lowe's as part of an Influencer Activation for Influence Central and all opinions expressed in my post are my own.
Last spring we completely re-did our small backyard from a kid's play area to a backyard the entire family can enjoy. It was quite the transformation and we enjoyed our outdoor living space during the spring and summer. But now with the change in to cooler weather, it was time to decorate our small backyard for Halloween.
We headed back to Lowe's to grab some fall and Halloween decorations. The goal was to make the backyard festive and fun for Halloween with just a touch of spooky.
Easy Small Backyard Ideas for Halloween
I centered our Halloween backyard decorations around a couple of colorful tinsel wreaths.  I love tinsel wreaths. They have a bit of shimmer to them and are light enough to hang just about anywhere. I used three wreaths in our backyard.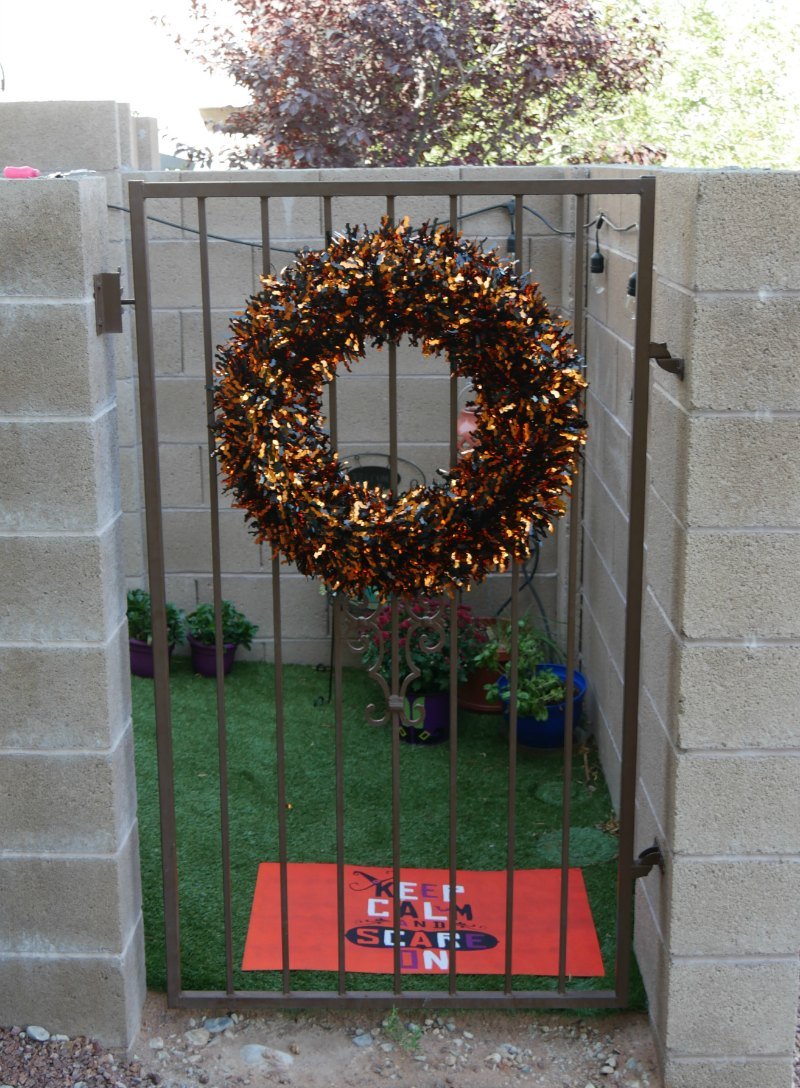 The first wreath I put on the gate that leads to our yard from the outside. We open the gate up on Halloween night for neighbors and trick or treaters to come back in to get treats.  I was able to hang with wreath with a few twist ties because it's so light. I added a Halloween welcome mat and mums in a witch pot for a little extra Halloween. We also made sure our Halloween lights hung all the way to the gate (more on those below).
I used another tinsel wreath, this one with spiders on it, on the wall of our house. For summer, I hung some colorful metal flowers in this space.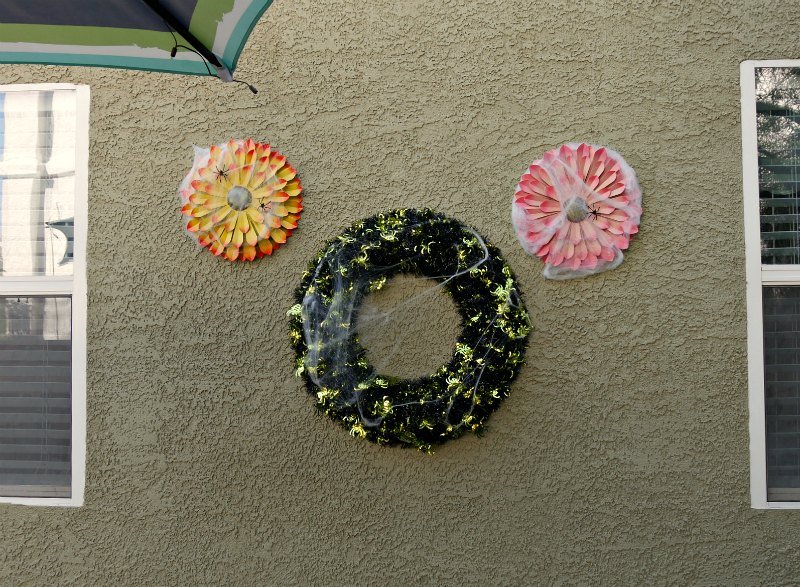 I switched the large flower for the Halloween wreath. I added fake spiders and spider webbing to the small flowers on the sides. I also added a little more webbing to the wreath.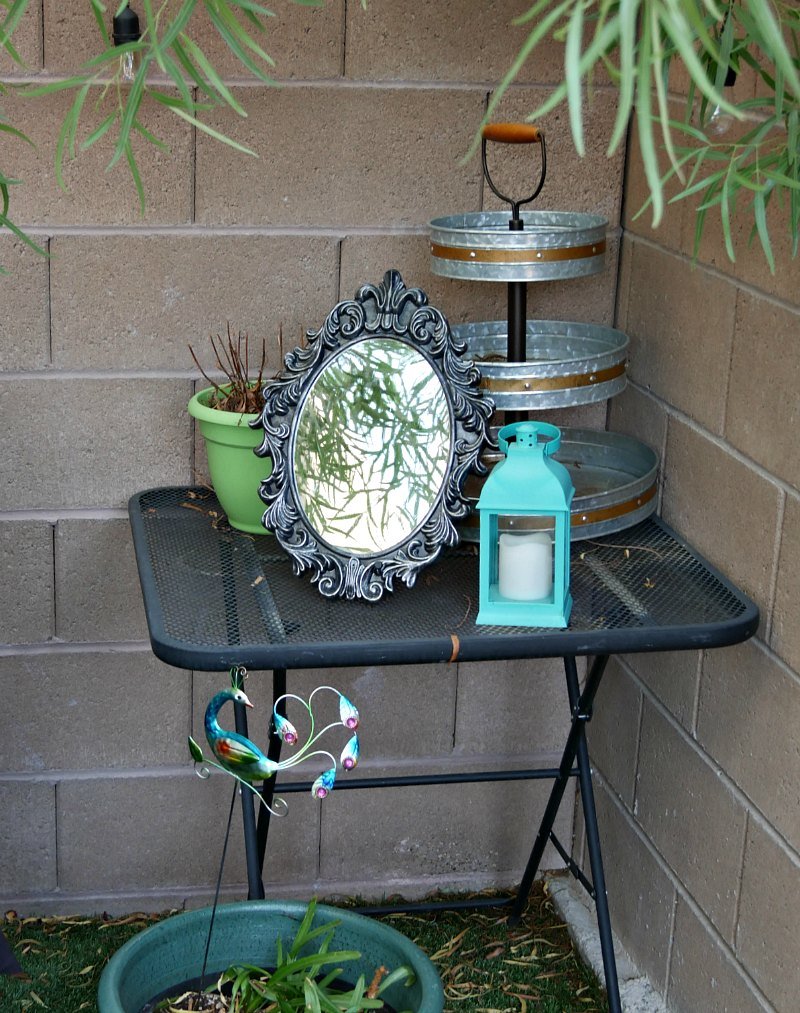 So far I stuck with pretty cute and cheerful Halloween decorations. But we have a corner in the far back of our yard that's a little spooky on it's own. So I set up a motion activated mirror on the table back there. It looks pretty innocent and a little pretty during the day.
But at night, the corner gets super dark. Whenever someone goes near the mirror it lights up and makes spooky sounds. I'm not in to the gory side of Halloween, but this mirror and the corner is just fun for a little scare.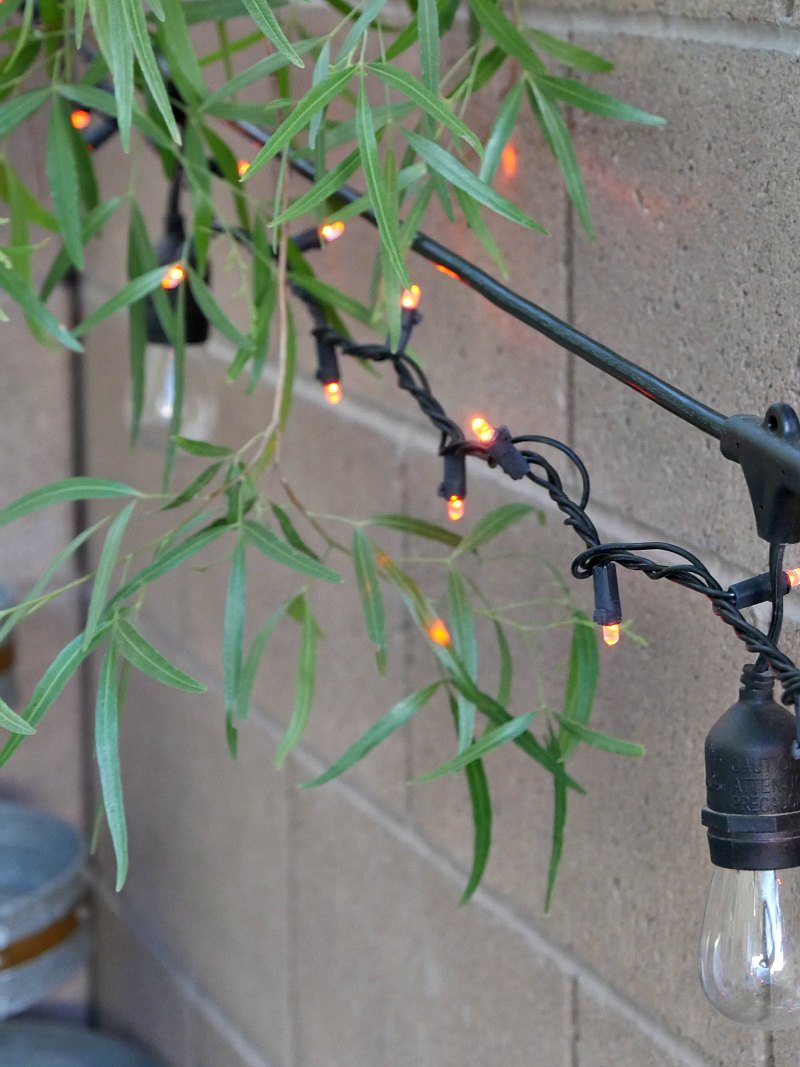 The last touch to our small backyard Halloween decorations are the lights. We already have hanging lights back there. We used two 100 light strands of Halloween twinkle lights and wrapped them around the existing light cords.
The lights can be used two ways. To keep the backyard dark and a little bit spookier, just plug in the Halloween strands.
For a lighter, less spooky mood, you can turn on both the Halloween lights and the regular strands. I also added a third wreath to the back wall for a little extra bling. It's the same wreath as the one hanging on the gate.
The entire family loves hanging out in the backyard enjoying our Halloween motif. Make sure to check out all the Lowe's Halloween Decorations online. Lowe's also has a great selection of Fall decorations, too.