If you are a new mom, or have a new mom in your life, then you need a Sam's Club membership to make life with your newest addition easier.
This post is sponsored by Sam's Club and Savings.com.
I still remember the first few days, weeks and months as the new mom to an infant in 2006. Leaving the hospital and going home was one of the scariest days of my life. Learning to balance the demands of a newborn along with well, doing everyday life is really overwhelming. You still need to eat and you still need to keep toilet paper on hand, ya know?
I think every mom remembers the first time you take your newborn out of the house on your own. Oh my! A quick trip to the store for milk suddenly involves car seats and diaper bags and working around feedings and naps. It's a lot!
Enter here to win a $100 Sam's Club Gift Card from Savings.com!
One of the best gifts we received during that time was a Sam's Club membership. I remember going on our first trip as new parents with my mom and she told us to get whatever we wanted on her dime. We stocked up!
After that trip I realized how convenient it was to shop at Sam's Club because they had everything we needed for our new little family. We could get enough groceries, toilet paper, diapers and even baby formula to last us weeks. The less trips to the store with a newborn, the better life is.
In addition to being able to stock up on supplies and cut down our trips to the store, Sam's Club also fit in our new family budget. It's amazing what diapers alone do to your bottom line. So being able to save on the new items we needed plus the things we already bought regularly was a bonus.
Sign up for a new Sam's Club membership now and you'll receive $20 gift card, as well as $25 in new member Instant Savings.
Plus enter to win one of 25 $100 Sam's Plus Gift of Membership gift cards being given away by Savings.com.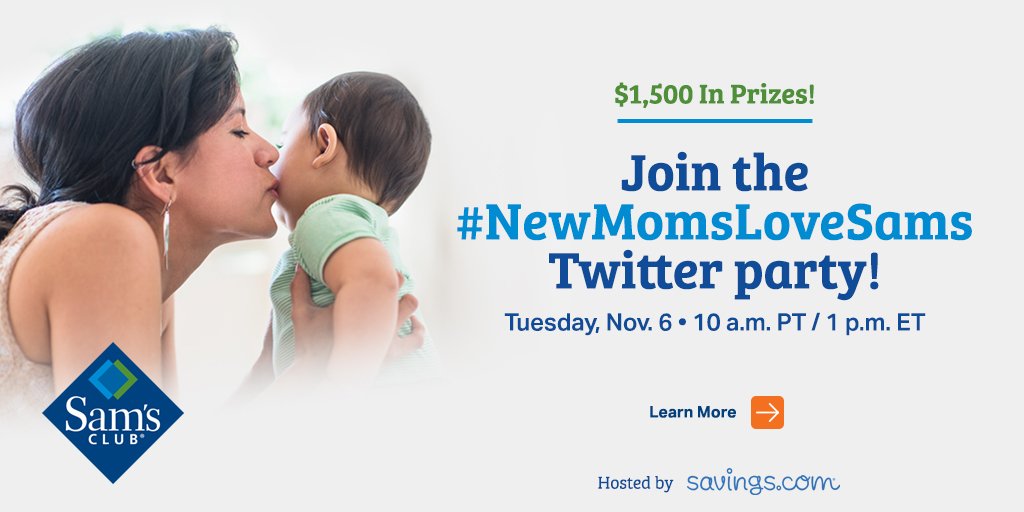 Want to try and win a membership? Just RSVP for and join the #NewMomsLoveSams Twitter party on November 6th where $1500 in memberships will be given away!