This post brought to you by ALPO® Brand Dog Food. All opinions are 100% mine.
I mentioned a few weeks ago that we adopted a dog.  We've been dog sitting for my sister's Goldendoodle, Izzy, quite regularly for the past year and we really missed her when she wasn't with us.  So when a friend of ours who is a dog trainer sent us a photo of what she thought was a mini-doodle and asked if we were interested in adopting her, we said yes!
Meet Ginger! Ginger is a 15 month old Australian Labradoodle who has completely stolen our hearts.  She is a sweet tempered girl who will get in to just about everything if you don't keep her busy.  Our cats still aren't quite sure what to think of Ginger, but the rest of us are delighted that she's now part of our family.
Ginger is the first dog my husband and I have ever owned.  We've had cats, but neither of us has ever had a dog.  We're learning the ins and outs of rawhide, dog beds, leashes, and, of course, dog food. We feed our cats wet food a few times each week and poor Ginger sat there wondering when she could have some.  Well, she got her chance thanks to ALPO® Chop House.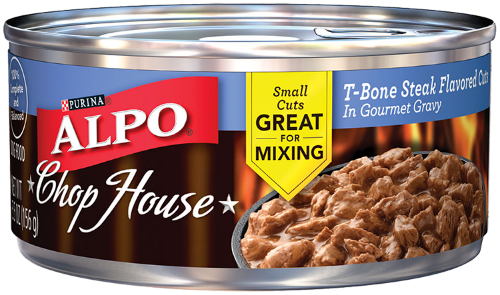 ALPO® Chop House comes in small cuts or finely ground that is great for mixing with dry food. Also, ALPO® Chop House 5.5 oz. is a compact can great for small dogs.  At 36 pounds, Ginger is right on the edge of a small vs. large dog so these smaller cans are perfect for her.
ALPO® Chop House 5.5 oz offers unique flavors for your dog, such as T-Bone Steak Flavored Cuts, Tender Cuts With Lamb, Filet Mignon Flavor, and Rotisserie Chicken Flavored Cuts.
Ginger tried out the filet mignon flavor and I'd say it was a hit. She spent a good five minutes after the food was gone licking her bowl!
We are thrilled to have Ginger as a part of our family and glad to have found ALPO's variety dog food for her.  You can follow ALPO® on Instagram. and check out ALPO's Facebook Page!