Next to phonics and math, choosing a handwriting curriculum has been very difficult.  First you have to decide if you want to do print and then cursive, or just go straight to cursive.  Or you could skip both and do a calligraphy handwriting course.  I also wanted some control over what my kids are writing when they are practicing their penmanship.  There is no sense in writing nonsense if they can be practicing with Bible verses or quotes from great writers and thinkers. Throw in the fact that Ella is left-handed and I found myself, yet again, overwhelmed.
This summer I was given the opportunity to try out StartWrite, a computer program that allows you to customize handwriting worksheets.   I have tried a few free websites for customized worksheets, but none of them have come close to StartWrite.
First, I love that I can customize the look of the worksheet.  My kids love pretty worksheets because we're all a little bit visual learners. With StartWrite I can add colorful borders and pictures on to the worksheets.  Once my daughter figured out what I was doing, she would sit at the computer with me and pick out her graphics for her sheets.  She was more apt to actually finish the sheets she created herself.
Second, and most importantly, I like to be able to decide what kids are writing.  I can pick specific Bible verses, poems, sayings or even parts of stories for them to practice.  We aren't there yet, but I'm thinking this would also be helpful for spelling words or even phonics practice.   My daughter recently had a birthday and she dictated her thank you notes to me, I printed them on StartWrite and she "wrote" them out.  She loved being involved in the process!
Third, I appreciate that StartWrite offers so many different styles of handwriting.  You can choose to have arrows, stick and ball or just the letters. They offer a choice of handwriting styles similar to  D'Nealean, Getty-Dubay, and Zaner-Blosser among others. I was super excited to see that they even include the Palmer style, which is almost impossible to find.  My mother and her sibling learned to write using Palmer and they have the best handwriting I've ever seen.  But Palmer has fallen out of style and I'm not even sure it's in print anymore. For the Palmer alone, I would buy this software!
This software is just so flexible that it has relieved my anxiety of having to choose ONE curriculum and style.  If something doesn't work for us, we can just print out a new worksheet with a different method.
StartWrite is offering Growing Up Gabel readers a 10% discount!

Just use the code BGUG at checkout!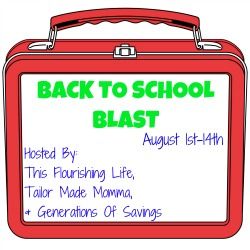 And come come back on August 1st to enter to WIN a copy of StartWrite during my Back to School Blast Giveaway!
I was given a copy of StartWrite to use for review purposes but all opinions are my own.  This post also contains affiliate links. 
This article may contain affiliate links.
This article may contain affiliate links which support this site at no cost to you.
Leave a comment
10 comments on "
Make Your Own Handwriting Worksheets

"