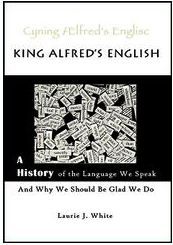 When my oldest daughter was learning to read, I was flabbergasted at the method her school used.  Instead of teaching her how to sound out words she didn't know, she was told to look at the pictures and try to figure out what the word was! I didn't know much about reading methods then, but I knew that whatever they were doing made absolutely no sense (and she had a hard time picking up reading!).
I've since discovered that public schools have pretty much abandoned phonics in place of "sight words".  I knew when we started homeschooling I wanted my other two kids to get a solid phonics background followed up by Latin in upper elementary.  I know that English can be a difficult language to learn and I want my kids to have the tools to decipher our language.
So, I figured that a good place for me, the teacher, to start was with a solid understanding of the English language and it's history.  As part of This Old Schoolhouse's Review Crew, I had the opportunity to review such a book, King Alfred's English: A History of the Language We Speak and Why We Should Be Glad We Do by Laurie J. White.
I sounded like quite the geek when I told people I was reading a book on the history of the English language, but I really enjoyed King's Alfred English.  It is one of those books where I drove my husband crazy reading him snippets!   This book really helped me to put together history, religion and language to better understand why the English is so unique and complicated.
King Alfred's English is a very easy, fairly quick, and enjoyable read.  It should be easily readable by high schoolers and most upper middle schoolers.  White's writing style is fantastic and she does a superb job of keeping the readers interest and moving along through centuries of history.  What I loved most about this book is the way that White intertwined history throughout.   White did a great job of putting the time period and changes in the language in perspective of world history in general.
I read King Alfred's English on my Kindle, which in general I love. But for this book, I would recommend purchasing the actual book.  White includes a nice timeline at the beginning of the book and I would have liked to been able to flip back to it easily.  It just wasn't easy to get to on the Kindle — or I just don't know how to get there easily!  There are also several wonderful illustrations and charts in the book that, again, would have been easier to study and use in an actual book.
Overall, I highly recommend King Alfred's English.  I think both adults and students will find it a wonderful introduction to etymology.

This article may contain affiliate links.
This article may contain affiliate links which support this site at no cost to you.