This is a Sponsored post written by me on behalf of Sam's Club. All opinions are 100% mine.
Green bean Casserole is one staple that's been a must-have for years. It's a dish everyone expects and loves for holiday meals.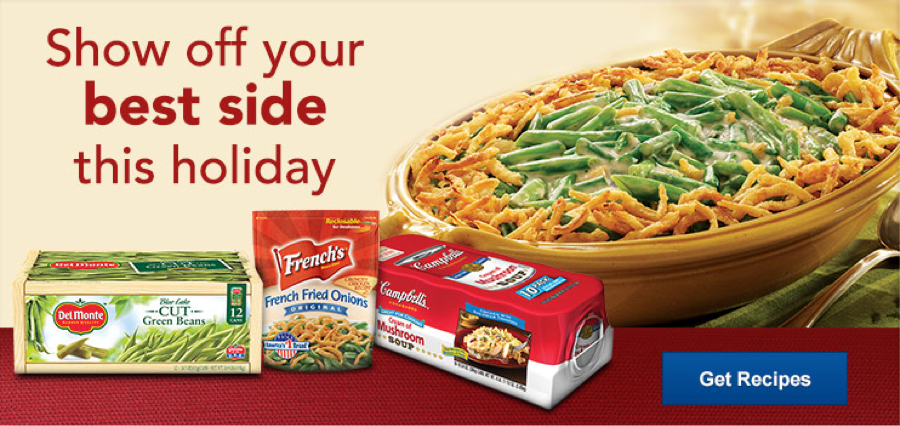 Like many, many Americans our Thanksgiving feast always includes green bean casserole.  My sister is always in charge of making the green bean casserole for Thanksgiving.  She and my husband are nuts over the stuff so she triples the recipe and we barely have leftovers.  Their favorite part of the casserole is the fried onions so she puts extra in the casserole as well as layering a nice thick layer of them on top.
The funny though is that every year we have to go digging around the internet to find the recipe.  It's such a simple dish: cream of mushroom soup, green beans and fried onions combined with your favorite seasonings that you would think we'd have it memorized by now, but nope.
If you buy your basics at Sam's Club, then use what you have left over from your original recipe to create other delicious dishes that will last beyond the holiday.  I'm loving this Brown Sugar Bacon Green Bean recipe to use up the extra green beans!  There are a ton of great recipes to choose from, too.
Brown Sugar Bacon Green Beans
Ingredients
6 slices bacon or turkey bacon
2 cans (14.5 oz. each) Del Monte® Cut Green Beans, well-drained
2 Tbsp. packed dark brown sugar
1/4 tsp. dried red pepper flakes
1 Tbsp. canola oil (optional)
Instructions
Cook bacon in a large skillet over medium-high heat about 5 minutes or until crisp. Place bacon on paper towels. Discard all but 1 tablespoon of the bacon drippings. (If using turkey bacon, replace drippings with 1 tablespoon canola oil.)
Return skillet to medium-high heat; add beans, sugar and pepper flakes. Cook 6 to 7 minutes or until lightly browned, stirring occasionally.
Top beans with crumbled bacon before serving.