This post brought to you by Nutrisystem . All opinions are 100% mine.
Last week I made Christmas snacks for my neighbors and friends. Three batches of Chex mix never left the house, however, and I still have two more Christmas parties this month. Each event promises tables full of casseroles, pies, and other yumminess. This won't be good for my waistline.
I've never succeeded at the new-year, weight-loss resolution, but I need to try something to fight the holiday bulge. The longer it takes, the more difficult it is to stay motivated, so I'd like to figure out how to get my weight back under control quickly.
Enter Nutrisystem® My Way®.
Nutrisystem is a leader of home-delivered weight loss meal plans, providing quality, nutritionally-balanced foods for more than 40 years. To make the experience even more personal, however, they've created the   Nutrisystem My Way program. My Way uses a scientifically-based algorithm to estimate individual metabolic rates and create customized programs tailored to each customer – it provides just the right amount of nutrients and calories you need to succeed. The 28-day program includes a personalized meal plan and exercise suggestions to help you boost metabolism and burn fat efficiently. Consumers can even consult a Nutrisystem counselor to respond to changing needs.
To help kick start your weight loss (and get you motivated!), Nutrisystem is currently offering the all-new Nutrisystem Fast 5 for FREE when you purchase a 28-day My Way program. Fast 5 promises a 5-pound weight loss* in the first week by sending you a unique, 1-week meal plan featuring seven days of specifically selected meals that will accelerate your weight loss. Growing evidence suggests that quick, early results lead to better, long-term weight loss success. The Fast 5 program helps fuel that motivation.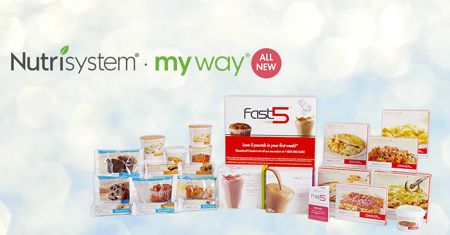 Though I'd prefer to have never gained the weight, I'm excited to know that, after the holidays, the Nutrisystem My Way and Fast 5 programs are here to help me get back on track.
*Results vary depending on starting weight, adherence to the program, and other factors.