This article may contain affiliate links which support this site at no cost to you.
This post brought to you by Hallmark Hall of Fame. The content and opinions expressed below are that of Growing Up Gabel.
Have a fun family movie night this weekend with Hallmark Hall of Fame's AWAY & BACK starring Jason Lee and Minka Kelly.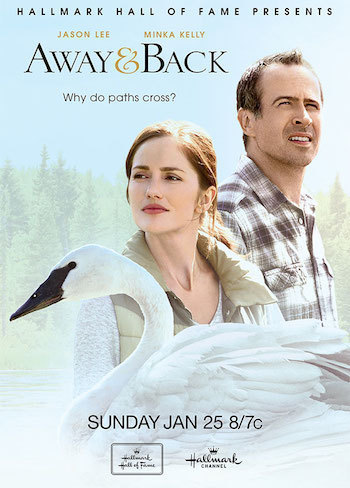 After the busy holiday season, January can be kind of a bummer.  I try to keep the fun going by planning family nights.  We usually have a family night on the weekends so I can let the kids stay up a little later.  We make a fun snack like homemade caramel corn or slow cooker chex mix and then pick a movie to watch or game to play
This weekend, we are settling in as a family to check out Hallmark Hall of Fame's new movie AWAY & BACK.  Can you believe Hallmark has been producing family friendly movies for over 60 years?! I spent many hours watching Hallmark's The Secret Garden as a young girl. AWAY & BACK is the latest in the series and is no exception to the Hallmark Hall of Fame legacy.
AWAY & BACK is a heartwarming, family-friendly film that includes adventure, humor and romance so there is something for everyone. When a family of swans makes their home on the Peterson farm, it's love at first sight for 10-year-old daughter Frankie (Maggie Elizabeth Jones). But along comes no-nonsense ornithologist Ginny Newsom (Minka Kelly), who rushes in to "save" the majestic birds. For Frankie's dad Jack (Jason Lee), it's dislike at first sight when he encounters pushy, know-it-all Ginny. Frankie and her brothers are anything but neutral observers as they watch the initial hostility between their widowed father and the strong-willed Ginny transform into something else. Check out the trailer:
The movie premieres on Sunday, January 25 at 8/7 Central on Hallmark Channel. You can get a glance at the movie in the trailer below and enter the AWAY & BACK Trailer – Share to Win Sweepstakes! Watch the trailer, sign up and share the trailer for a chance to win a family vacation.  I'd love to win a family vacay!
What are your favorite Hallmark Hall of Fame movies for family movie night? Don't forget to tune in this Sunday!
This article may contain affiliate links.