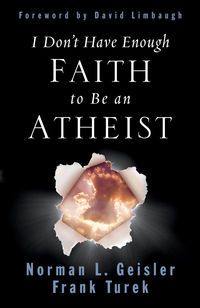 Every once in a while I am asked to review a homeschool curriculum that looks really fantastic, but my kids are not the right age for the review.  So when I was given the opportunity to personally review Apologia's new apologetics curriculum, I Don't Have Enough Faith to be an Atheist, I knew that my husband, Mitch, would love it.  Mitch has recently become very interested in apologetics as he was frustrated when trying to defend his faith. Although we have not yet used an Apologia curriculum, I have heard how fantastic they are from other homeschooling families.
Although I didn't use the curriculum, I've had a front row seat to my husband's use and from what I can see, this course is nothing short of thorough.  Mitch has found that while you can read the book on it's own, the accompanying I Don't Have Enough Faith to be an Atheist workbook has helped him work through some challenging theories and philosophies as well as add even more information.
Below are Mitch's thoughts on I Don't Have Enough Faith to be an Atheist:
As a kid growing up in a Jewish home in the suburbs of Long Island, the last thing I would have dreamed of doing was writing a blog post on Christian Apologetics.  Yet, here I am at the age of 40 and glad to report that the book I don't Have Enough Faith to be an Atheist is not just a reaffirmation of scientific evidence for me as a Christ follower, but for the seeker or skeptic, this book is a game changer.
The amount of scientific data that is in this book and supplemented by the workbook is as thorough as any professor at Harvard, Yale, or other notable learning institution — as a native New Yorker and Ithaca College grad, I would be wrong to not mention Cornell.  But scientific data is not enough to prove "the truth".  The ability to debate the truth with the best of the non-believers is what this book and workbook strive to achieve.
One of the ways the authors debate their truth is through their coined Road Runner Tactic.  Here is a segment taken out of the book/workbook to further explain:
To say a truth is relative is self-defeating.  In other words, the statement doesn't meet its own standard.  If all truth is relative, then that statement should be relative as well, but it is absolute instead — which contradicts the point the person making the statement is trying to make!
It's important that you know how to point out self-defeating statements like these, because often don't even realize they're making the kinds of statements that contradict the rules of logical thought. [workbook pg. 29]
The ability to apply every statement to itself to see if it meets its own standard is the defining aspect of this book.  In order to do so, the authors constantly not only provide the most thorough explanations to support the scientific data presented, but they also provide the opposing arguments thorough data.  Thus, they then defeat the opposing arguments with even more thorough data.  By the time you are done with one chapter, you are left with overwhelming evidence that everything in the Bible is scientifically proven from creation to the documented reliability of the old and new testaments, eye witness testimony reliability, Jesus' crucifixion, burial and resurrection, Jesus is God, whatever Jesus [who is God] teaches is true, Jesus taught that the Bible is the Word of God, therefore, if it is true that the Bible is the Word of God [and anything opposed to it is false].
For those that choose not to believe that the information presented in this book and workbook is true and without bias, as the book clearly points out, sometimes the will is stronger than the evidence.  But I don't have enough faith to believe in someone's will.  I'll believe in the truth presented thoroughly through overwhelming observational and forensic evidence.  This book is a must read for all.

This article may contain affiliate links.
This article may contain affiliate links which support this site at no cost to you.