My children, like most their age, go through phases of obsession over different TV, cartoon, or movie characters.  The girls both went through the obligatory princess stage.  Miles is still in the Thomas the Tank Engine phase.  We are also very in to superheroes (like The Avengers) and all things PowerRangers.  With Ella's birthday earlier this month, I went perusing the internet looking for a place to find gifts with her favorite characters and I was kind of dissappointed to find not much.  So I was really happy when I stumbled upon Kimmyshop.com because they just about everything!
If you have a kid who is in to some kind of character, kimmyshop.com probably has something for you! They have toys, umbrellas, action figures, puzzles, clothes, board games, and so much more.  I know that for some of you, school is starting in a month or less.  Kimmyshop.com is stocked with back packs and lunch bags in almost every character available.
Kimmyshop.com sent me a Caillou lunch bag to try out, although we've yet to use it for food! My kids love to put small toys (like Hot Wheels) in their lunch bags and carry them around.  The bag has held up very well despite much toting! My kids really liked that Gilbert, Caillou's cat, is on the bag since we also have a gray cat.  The lunch bag is nicely insulated and has a lot of room in it for pretty much anything a kid would need for lunch.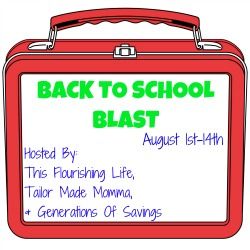 Would you like to win a Caillou lunch bag?  Kimmyshop.com is giving away one Caillou lunch bag in my Back to School Blast Giveaway Hop starting August 1st!  Come back to enter and to win!
This article may contain affiliate links.
Leave a comment
2 comments on "
Where To Find Back to School Character Supplies

"