A Crafter's Dream Christmas Giveaway Hop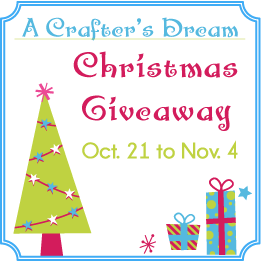 I'm thrilled to announce that I will be participating in the Crafter's Dream CHRISTMAS Giveaway Blog Hop from October 21-November 4, 2012!
Christmas is just around the corner, and the time to start crafting our gifts for friends and family is now! Some of the blogs in the giveaway group will be giving away some awesome crafting supplies!
Sometimes we want to give a handmade gift, but just don't have the time or know-how to make them ourselves. This is a great opportunity to support small businesses and shops who offer handmade items! Some of the blogs in our giveaway group will be highlighting such small businesses and offering giveaway items for them, as well. Even if you don't win the giveaway, we hope that you will keep these small businesses in mind when shopping for that perfect gift for your special someone.
My prize will be sponsored by the amazing Melody of Stitched By Melody. This one is for anyone as Melody not only sells handmade yarn, but also finished knitted projects!
If you are a blogger or sell handmade items, you can sign up at My Merry Messy Life!
If you are a blogger or sell handmade items, you can
Leave a comment